Reusable Mask
with 10pcs Nano Filter Sheet
KEY BENEFITS
The masks can be reused after washing, reduce wastage
The Nano filter passed the test of BFE ≥ 99%
The material is breathable and moisture-absorbing, cool and dry to the touch
Soft and smooth texture, creates comfortable fit
Suitable for daily use in public places
---
PRODUCT SPECIFICATION
---
MATERIAL / SIZE
Three layers of protection, the outer and inner layers are waterproof knitted fabrics (100% poly), and the middle layer is interchangeable Nano filter. Each mask set with 10 pcs Nano filter for replacement. The sizes fit most adult, the length of the ear straps can be adjusted, and there are two sizes to choose from L and XL

---
L
XL
tolerance
Height-along cure-seam to seam
5 5/8"
6 1/8"
±1/8"
Curve at ear piece-along seam
2 1/2"
2 1/2"
±1/8"
Total strap length
5 3/8"
5 7/8"
±1/8"
Bias height
5/16"
5/16"
±1/8"
Half length from center of curve
to equal points of front/center seam
3 1/4"
3 1/2"
±1/8"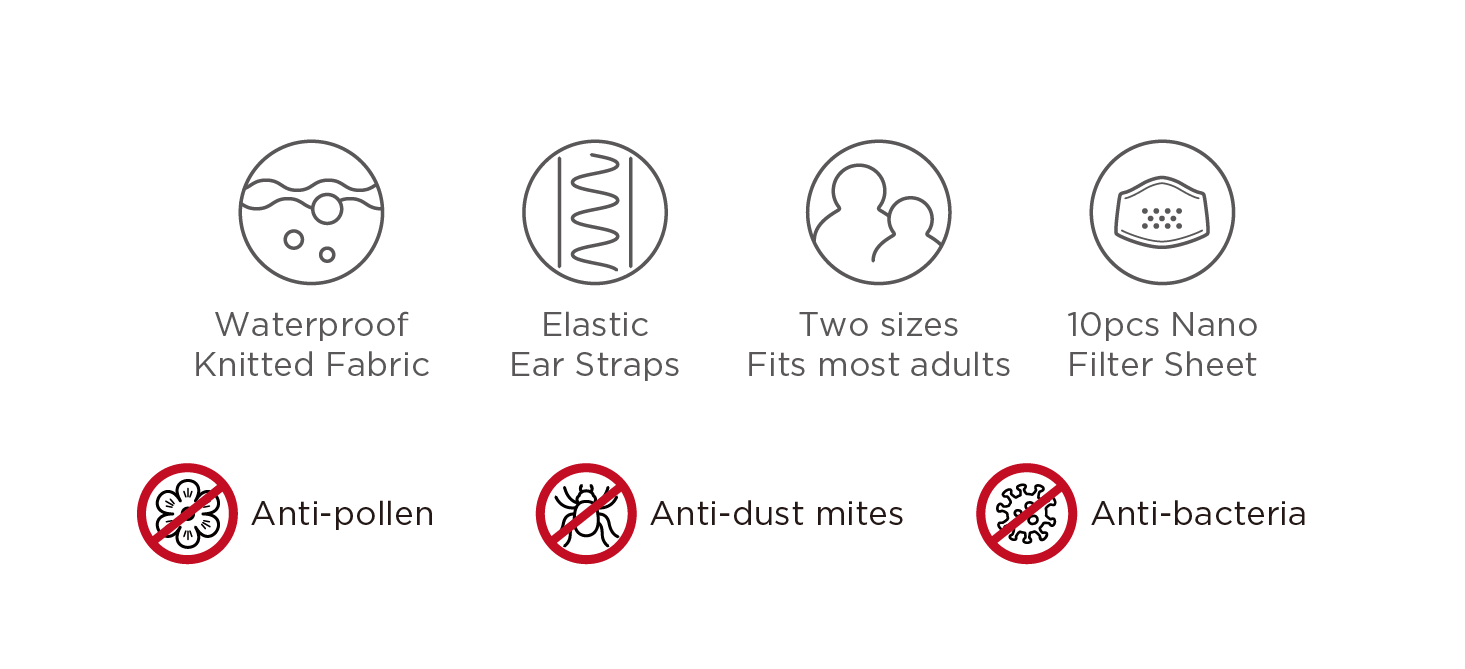 DIRECTIONS
Wash the mask when you first receive it. Insert a filter into the inner surface of your mask. Pull the mask straps around your ears. Replace the filter, wash the cloth mask after use, and let it dry completely before the next use. Please remember to use the mask together with the Nano filter, and discard the filter after single use.

---
CAUTION
This is a general face mask for daily-use, not surgical equipment; For external use only. Store in a cool and dry place. When use in discomfort or with breathing difficulties, stop using immediately.

---